About Banque Franco-Lao
BFL (Banque Franco-Lao) has been created in 2010 and is born as a partnership between BRED & BCEL. Headquartered in Vientiane Capital, BFL services its 10,000 Retail & Corporate customers in the main economic centers of the country, through a network of 11 Service Units.
Our core business is commercial banking, offering to the Lao market daily banking and financing products, and an array of corporate financial services. BFL products & services offering includes competitive daily banking options, attractive pricing on transactions, innovative digital tools and dedicated Relationship Manager to each of our customers.
Message from the CEO of BFL, Mr. Stéphane Urbain:
"Born as a partnership between BRED a French bank and BCEL, Banque Franco Lao (BRED Group) identity combines a French flavor and a local presence. BRED Group was created as a cooperative bank by entrepreneurs in 1919, and kept this entrepreneurship spirit since its creation along with a strong community involvement and promotion of new initiatives.
Innovation in the banking sector has become a key, not only in terms of digital solutions, but also through the advice that we propose to our customers. What we want to put at the heart of our action is a better understanding of our customer's projects, in order to build proximity and strong partnership with our customers, through dedicated Personal Bankers, reactivity to their questions and tailor-made solutions.
We have been named the best bank for Lao SMEs for several years and we regularly conduct "access to finance" training as part of our Banking on Women initiatives, to help Lao women entrepreneurs and young women upskill and learn how to create a business plan, access credit opportunities, etc.
Innovation, entrepreneurship and social involvement are the keywords of our mission!"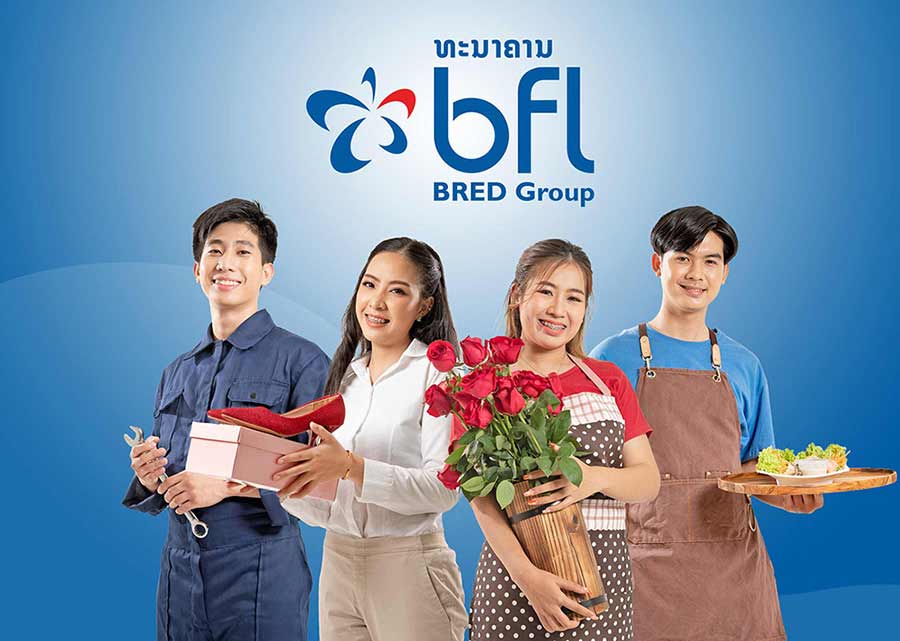 Our mission
As a subsidiary of BRED, we support entrepreneurial spirit and believe our mission is also to participate in the local and sustainable development of Laos.
We have our customers' interest at heart and want to build and maintain strong relationship of proximity with them. By understanding them, we are able to accompany them throughout every of their projects.
BFL is part of BRED Group
BRED is a cooperative bank, supported by its 200,000 members. Its products & services range from day-to-day banking, asset management, insurance, private equity, investment, to FX. BRED Banque Populaire is established in the Greater Paris region and in French overseas territories and collectivities. At the global level, BRED is located in the horn of Africa (Djibouti), South-East Asia (Cambodia and Laos) and the Pacific Region (New Caledonia, Vanuatu and the Fiji islands).


About BPCE
BFL is a subsidiary of BRED Banque Populaire, the latter being part of BPCE, the second largest banking group in France. With 100,000 employees, it serves 36 million customers worldwide, including individuals, professionals, businesses, investors and local authorities. The group operates across the banking and insurance sectors, leveraging the full potential of its two large cooperative networks.
Its rating is A/A1* and enforces the highest international standards in terms of security.
*Standard & Poor's Rating, updated on 3rd December 2021