"Everything is possible if you do it"
Brief introduction to Mrs. Veomanee Douangdala
Mrs. Veomanee Douangdala is co-founder of Ock Pop Tok and a vice president of the Luang Prabang Silk Promotion Association and she is also a board member of the chamber of commerce and industry of Luang Prabang.
She leads the Ock Pop Tok product design and weaving teams, oversees the management of our Living Crafts Centre, Finance and admin and is responsible for of our Heritage textile collection. In her free time, you'll find Veomanee tending to her garden at home, where she organically grows herbs and vegetables and even has a chicken coop and a fish pond. Veomanee loves spending time with her family but makes sure to meditate and do yoga, to balance her mind and body.
Over the years, she has become a natural ambassador for Lao textiles, from meeting foreign dignitaries to represent and preserve Lao handicraft and inspiring young Lao women to follow her footsteps and to empower themselves with their weaving skills. Following principles of fair-trade is one of the cornerstones of her vision, as she aims to advance the artistic, cultural and social development of Lao's diverse textiles and communities through educational activities. 
Ock Pop Tok in brief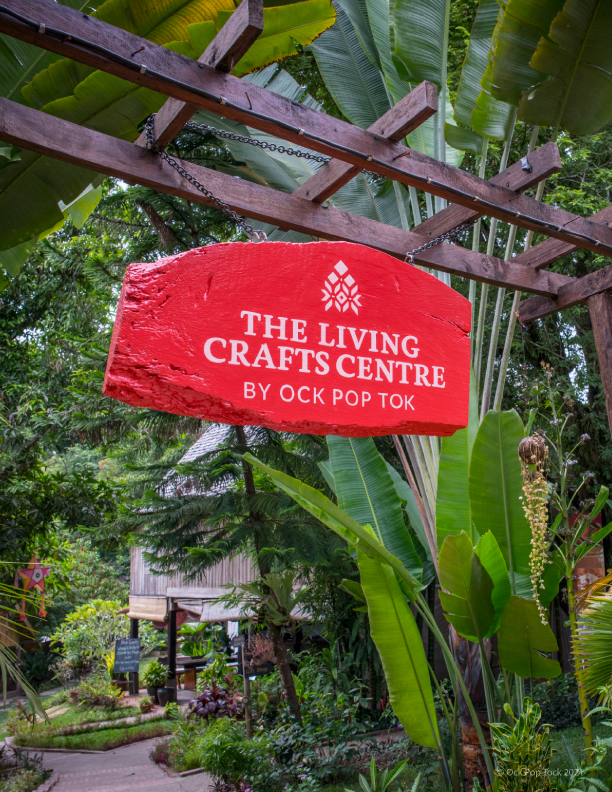 Founded in 2000
Ock Pop Tok mission is to elevate the profile of Lao textiles and artisans, to increase economic opportunities, and to facilitate creative and educational collaboration in Laos and worldwide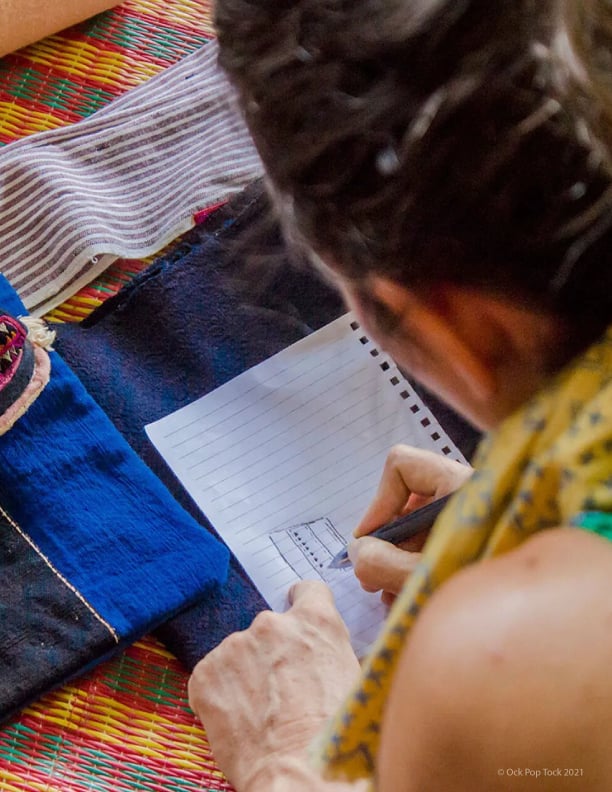 Over 90 employees
A dynamic international team and professionals weavers from 14 provinces in Laos. The company aims to provide individual growth and a sustainable source of income for all of its employees.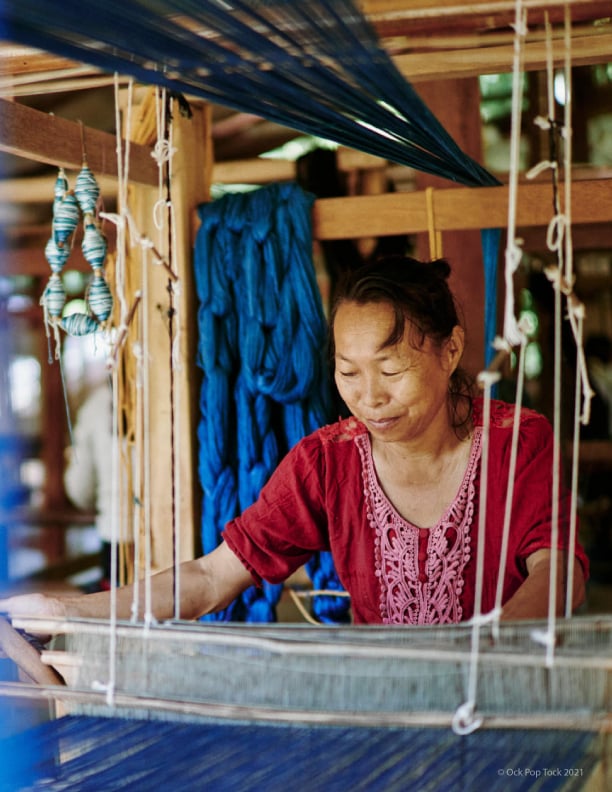 Handicraft experience
The company offers to its customer a full discovery of handicraft and its artisans through Ock Pop Tok living Craft Center, shop onlines, hotel, museum, education, etc. as well as respecting traditional techniques and materials
Could you tell us about your past experience?
I was born in a weaver family and the only daugther of four children. When i was 8 years old, I learned to weave with my mother until i became a professional weaver.
Because of my inspiration from Lao textile,
I decided to create Ock Pop Tok (East meet West in English) at 24 years old with my English friend Johanna Smith, a specialist in sculpture and photographer.
We are working in the fields of textiles, handicrafts and design and we also have a chance to work with professional weavers of 14 provinces across Laos.
One of the goals of Ock Pop Tok is to make weaving a viable career option for women in Laos. In November 2017, I was invited to speak at a Ted-X Talk in Vientiane, focused on the theme "Reimagine" with the objective of empowering and celebrating women nationwide in Laos. I was able to share the story of Ock Pop Tok and how a small idea 18 years ago has now grown into one of the biggest social enterprises in the textile industry in Laos.
Keys factors to develop your business successfully?
Having a team sharing the same vision is key to a strong and sustainable development. Also, an important factor we cannot forget is our unique location and heritage from our city, Luang Prabang, which benefit from a rich and ancient culture that is an integral part our unique production. We start with locally sourced, natural and organic raw materials and oversee all aspects of our production to ensure the highest quality of products. Our products reflect a balance between tradition and innovation.
Not only that, we have had the chance to share a common passion for textiles and cultural together with our local and international colleagues, learn from our mistake and improve mistake to develop our quality of better product.
How have your business been affected by the Covid-19 pandemic?
Because in Luang Prabang more than 70% of the economy is based on tourism, we are of course quite affected. During this pandemic, 90% of our business linked to tourists has been on hold, and it also impacted the mental health of our employees.
To tackle negative impacts, we take it as an opportunity to improve our shop, products for local and online customers and provide additional training to our team, to keep our strength and support each other.
Anyway, we have not stopped developing our brand and we will keep supporting each other through this situation together.  There is a strong community in Luang Prabang and we also count on the domestic tourists to come visit us in Luang Prabang!
How did BFL help mitigate the impact of Covid-19 on your activity?
I have been a BFL customer since 2014. The team at BFL assisted us in numerous ways, from financial advisory to helping support the promotion of our brand, products and services through their social and communication channels. Moreover, they have provided us with convenient financial solutions and monetary policy, and i can say that BFL is one of our good business partners. 
Success Tips for entrepreneurs?
In our business model, we are not thinking about our personal benefit. From the beginning we are driven by passion. We are committed to empower women by promoting economic stability, opportunities and leadership for all women in The Lao PDR.
If you wish to start your business, I would like to suggest to first study your target market with attention, especially e-commerce opportunities. In this uncertain times, digital is certainly a great way to generate faster and stable growth.
It is also important for those who want to become entrepreneurs to believe in what they love, in order to create a strong brand and reach customers sharing similar interests.
Doing business isn't only about personal profit, and it is important to grow with the people around you, as a community. I strongly believe entrepreneurial initiatives, knowledge and business experience need to be shared to benefit society in a sustainable manner.
BFL BRED Bank & Ock Pop Tok © 2021 , All rights reserved.All pictures and materials used in this article are the property of Ock Pop Tock Laos. If you wish to share or use any of said materials and pictures, please contact Ock Pop tock at www.ockpoptok.com